Manage fire risks better. Read and watch fire risk assessment tips advice and support. Get latest fire risk management news headlines opinions debate review and deals. Promote and market your fire risk management products or services more profitably.
Ask a question to solve your own fire risk management problem for free
Fill fire risk management job vacancies faster
Network with other business leaders looking to solve fire risk management problems
Protect your enterprise more cost effectively
Complete and submit the form below and enter code #FireRiskAssessment.
Fire Risk News Live Blogging and Fire Safety Risk Analysis
Corporate or enterprise fire risk news headlines fire risk analysis fire risk management debate.
6th February 2020 Grenfell Tower Inquiry Asks UK Government If People Who Give Information At Inquiry Can Be Granted Immunity From Prosecution
Grenfell Tower Inquiry must not act in a way that enables guilty people to become immune from prosecution. Those that are guilty for the deaths should be held accountable not just for the people affected by Grenfell fire but to help protect potential future victims.
If guilty people are not held personally accountable for Grenfell Tower fire future people responsible for good fire safety will take unnecessary risks. Future Grenfell fires will happen again and again.
17th December 2019 Fire Risk Product Recall Alert Hotpoint and Indesit: Fears Washing Machines Could Catch Fire
Hotpoint and Indesit washing machine owners told to unplug their washing machines due to fire risk.
519000 washing machines sold under the Hotpoint and Indesit brands in the UK between October 2014 and February 2018 could be affected by the flaw with the door locking system that could lead to them overheating and potentially catching fire.

Hotpoint and Indesit Washing Machines In UK
If you bought a washing machine since 2014 contact Whirlpool immediately to check if your washing machine is one of the models affected.
Please find affected model numbers below.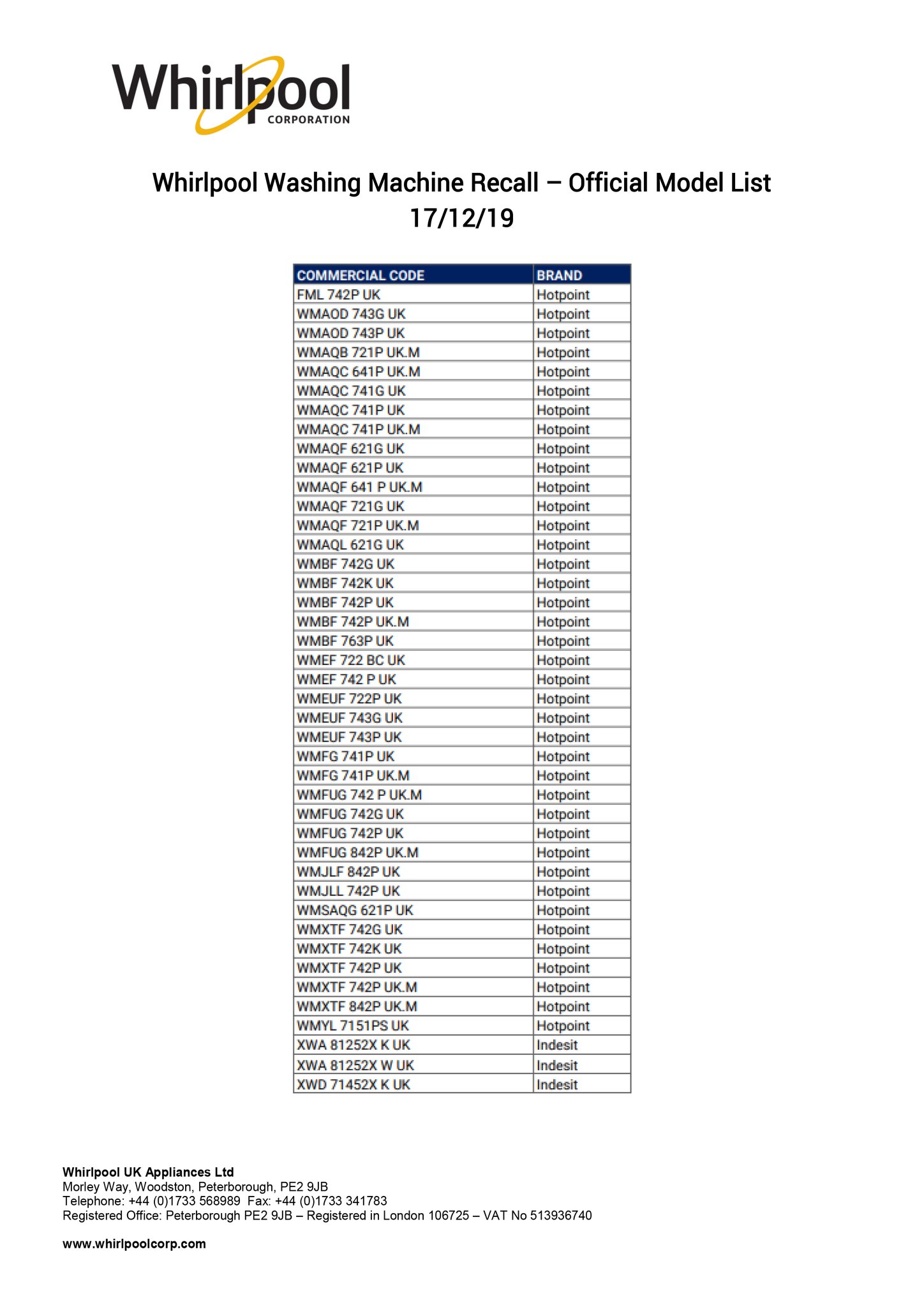 In the meantime unplug your washing machine and do not use it. Those who chose to continue using their machines should only use cold water cycles of 20C or lower as this significantly reduces the risk.

Whirlpool
The issue has arisen due to the washing machine heating element being activated during washing cycles above 20C.
Under the recall, all affected customers will have the choice of either a free of charge like for like replacement washing machine or a free of charge inhome repair of their existing appliance.
Consumers can check if their washing machine is affected by visiting https://washingmachinerecall.whirlpool.co.uk. This site includes an online model checker tool, as well as a full list of model numbers.
Alternatively, customers can call Whirlpool's freephone hotline 0800 316 1442 where an adviser can assist with checking their model and providing further information.
To check if a washing machine is potentially affected, customers will need both the model number and the serial number of the appliance. Both of these codes can be found inside the door or alternatively on a label on the rear of the appliance.
7th January 2019 Shurgard Self Storage Fire In Croydon Criticised On BBC Victoria Derbyshire Show
The fire destroyed many personal possessions and business items stored in a large self storage facility. The company has been criticised for poor security and fire precautions that could have prevented fire or mitigate the extent of damage.
The companys response is that it took all reasonable precautions to protect against or limit loss to its customers.
The programme explored the contract terms surrounding non storage of items of sentimental value insurance cover the security of the building and the fire precautions in place.
The reputational damage may also be a factor for this and other self storage businesses when considering what is reasonable security and fire risk protection.
In addition the company was criticised for its communication post fire.
19th July 2018 Landlord Jailed Over Fire Deaths Of Children
Two boys died in a house fire. The landlord who failed to fit smoke alarms in the rented house has been jailed for 12 months. The failure to fit smoke alarms in the rented home was a significant cause of the deaths of the young children. The fire was caused by an electrical fault in the TV. It was assessed by fire safety experts that the smoke alarms if fitted could have bought enough time for the boys mother to get the boys out and have prevented the tragedy.
The jailed director of the property management company Prime Property Estates Yorkshire admitted breach of health and safety law. Private sector landlords must fit at least one smoke alarm installed on every storey of rented property. The director admitted breaches of safety law. He was facing manslaughter charges but these were dropped after his admission of guilt under safety law.
5th June 2018 Contractors Involved In Refurbishment Criticised For Their Lack of Integrity At The Grenfell Tower Fire Inquiry
The contractors were urged to come forward with all information and honesty to help the inquiry understand what contractors did wrong.
Firefighters in London were not suitably trained or equipped to fight fires like the Grenfell fire.
4th June 2018 Grenfell Tower Fire. Was it the Stay Put Fire Evacuation Policy That Failed Or The Fire Risk Assessment Which Presumably Should Have Addressed Compartmentation or Lack Of It?
Stay Put policies are not wrong. What is wrong is to have a stay put policy when the building construction is not compatible with Stay Put Policy..
If you have poor building practices you can have gaps in otherwise good fire compartementation
If you have poor building materials with inadequate fire resistance then you have less time to be protected.
If the fire risk assessment is not completed professionally then you have an inadequate picture of fire safety.
If you do not act on the fire risk improvements from a fire risk assessment then you have wasted your time.
What do you think about Stay Put Fire Policies?
4th June 2018 Grenfell Tower Fire Inquiry Updates
The Grenfell Tower fire inquiry turns its focus away from the friends relatives and victims to looking at how the fire started and spread so rapidly.
We look at news opinions and comments which could help business leaders manage fire risk better. Learn from fire risk experts talking about fire safety
Can not definitely say that fire started from firdge freezer in flat in Grenfell Tower. However it is more than likely that this was the cause of the fire starting in the Grenfell Tower.
Stay Put In Event of Fire policy may have resulted in people losing their lives when they could have been better leaving the building when they had option. The Stay Put fire evacuation strategy should have changed as the fire developed.
Organisations involved in the refurbishment of Grenfell Tower prior to fire did not understand how the cladding would react in a fire. The cladding was a clear significant hazard. The cladding actually fueled the fire to spread faster.
There was poor and insufficient compartementation of the building via appropriate construction materials and techniques.
Register for Grenfell Tower Fire news alerts opinions and reviews
22nd March 2018 Sprinklers and Residential Buildings Update Following Grenfell Tower Block Fire
London Assembly report calls for automatic sprinklers to be mandatory in all new tower blocks. The London Assembly committee investigation report recommends automatic sprinklers should be fitted in new care homes, sheltered housing and blocks of flats higher than 6 storeys. Their installation should be mandatory in existing tower blocks when re refurbishment work is needed.
However, the report doesn't advocate the retrofitting of sprinklers in all circumstances due to the cost benefit analysis. Whether they are fitted should be based on the fire risk assessment. Most of the professionals involved have concluded that retrofitting sprinklers should not be made mandatory for all existing structures. New properties or properties undergoing refurbishment is a different matter.
6th February 2018 Cheshire Fire Service Fire Risk Assessment Form For SMEs
If you want to do the fire risk assessment for your small to medium sized business in UK you should visit Cheshire Fire Service website to download an excellent Fire Risk Assessment template to help you complete statutory fire risk assessments for your business.
cheshirefire.gov.uk
24th June 2017 Inadequate Fire Risk Assessments
An issue to resolve following the Grenfell Tower disaster is the adequacy of fire risk assessments. Last night Camden council evacuated many of their tower blocks after the leader of Camden council was told be the fire service that the tower blocks were not safe to live in. People were evacuated in the middle of the night after the decision was taken late afternoon or early evening.
Why did Camden council's own fire risk assessments not identify that the cladding on Camden council buildings are unsafe? Why did the fire risk assessments not reveal that a combination of issues including cladding gas pipes and fire doors made the towers unsafe? Why did it take an investigation from the fire service to conclude that the towers are unsafe?
Evacuating and decanting hundreds of tenants in the middle of the night is an emergency action. However, there is growing concern across for other public sector buildings and private sector buildings. Surely fire risk assessments across the UK should have already identified the inappropriateness of the cladding before or after fitting flammable cladding. This must mean that people who completed fire risk assessments are incompetent?
Helping connect business leaders online to manage fire risks with less uncertainty
Finding the latest best Aberdeen has to offer can be time consuming or unfruitful. We make life and business in Aberdeen easier and better.
Searching for what you need in Aberdeen is free. Come back often to find the best of Aberdeen online quickly. Pick up the latest lifestyle and business news headlines opinions debate and business reviews.
Fire Safety and the Role of Fire Risk Assessments Protecting People and Businesses
Marketplace for fire risk assessment training and fire risk assessment consultants providing fire risk assessment services.
Fire Risk Assessments as required under the Regulatory Reform Fire Safety Order 2005. Do you offer fire risk assessment or fire risk management products and services in the UK?
Want to register your interest in our fire risk assessment related business online marketplace?
Want to read fire risk product and services reviews? Time to watch fire risk management videos to develop your understanding of business fire risk management?
Ensure you fulfil your fire risk assessment obligations cost effectively
Find the best way to develop your fire risk assessment knowledge and skills.
Tackle the challenges of preparing a fire risk assessment yourself with more confidence or use a fire risk consultant to help you who fits the fire risks in your industry or property risks.
Need to reassess your fire risks?
There are many flexible and cost effective ways of building knowledge and skills in fire risk assessment suitable for people of all levels in every property risk.
Pick the best fire risk assessment training course for your property risks
Ensure your employees with fire risk responsibilities receive appropriate and practical fire risk assessment training
Find the best fire risk assessment consultants for your property risks
Subscribe for free to receive updates on fire risk assessment providers news deals and special offers
Learn from your peers
Our fire safety forum provides opportunity to pick up tips advice and support. Join our community of people interested in getting the best from the fire risk assessment process:
Read some recommendations on the quality of fire risk assessment training or fire risk assessment consultancy advice
Discuss what you need to provide and how it has worked well (or bad) for others
Share your experiences and change your opinion of fire risk assessment programming
Embed a systematic fire risk assessment programme that may work better for you
Explore new ways of training your employees and persons responsible for fire safety in the workplace
Pick the country or industry or specific property risk you are focused on to ensure your own learning and fire risks is more productive
Integrate your fire safety training into your overall skills development of your workforce
Increase the frequency of fire safety training without increasing the cost effectiveness of the training
Join a think tank aimed at improving the quality of safety training and fire risk assessments
Learn from your peers
Learn from fire safety experts and fire safety consultants who wish to promote their services whilst imparting fire safety knowledge improvements
Discuss what works and what does not
Learn more about fire prevention and business continuity planning.
Apply to join Fire Risk Assessment Marketplace for fire safety news opinion and fire risk analysis CLICK HERE
Learn more about fire risk assessment services sponsorship and promotion opportunities CLICK HERE
#BusinessRiskTV #FireRiskAssessment #FireRiskAssessor #FireRiskManagement #FireRisk #FireSafety #FireProtection #FirePrevention #Grenfell
Fire Risk Assessment Forum BusinessRiskTV Fire Risk Assessments